Yes that is Betty Page and not me. We do look similar except for hair color, mind is dirty blonde. My bangs are the same, short and blunt but my hair is shoulder length but the legs are the same. Soft, voluptuous and sexy as hell. My attitude and sexual openness is just like hers too.
This is a bigger pic. She is my idol and seems to be a lot of rocker's idol too: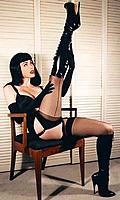 She has to be the epitome of sex and darkness that anyone would love. Not to mention submissive too. I am actually thinking of dying my hair black with blue hues.