Hey there guys and girls.
We have a friendly community here at Trans Ladyboy Forum, and
you, Guest
, can help everyone keep the forum clean.
If someone comes on board and violates the forum rules in one of the following ways:
Spamming
Insulting other members
Posting links to illegal tubes with stolen videos (as much as you might like them)
It only takes one push of the Report Post button for the offending post to be gone.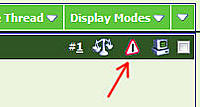 The admins and mods will then be notified about the violation and have a chance to delete that post for good.
Working together and taking the time out to use that button makes it very easy for members to keep this forum clean.
Help us out when you can...
Thanks,
SSL